Bank of America makes $7.3bn loss after one-off charge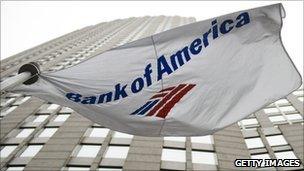 A one-off charge has left Bank of America - the US's biggest bank - with a loss of $7.3bn (£4.8bn) for the third quarter of the year.
The charge - of more than $10bn - is designed to reflect the lower value of its credit and debit card business whose profits will be affected by new regulations curbing charges.
The bank had warned it would make the charge in its last earnings report.
Meanwhile profits at Goldman Sachs fell 43% but still beat analysts' forecasts.
Goldman reported net earnings of $1.74bn for the third quarter, down from the $3.03bn it reported a year ago.
Revenue fell 28% to $8.9bn, but still came in well ahead of the $7.9bn analysts had expected.
The market had been expecting Goldman's earnings to fall because of slower trading, and the bank's results statement showed revenue from trading was down 36% on a year ago.
But revenue at its investment banking unit rose 24% to $1.12bn, as low interest rates benefited the division.
Goldman, which has often been criticised for its pay practices, set aside $3.83bn for compensation in the third quarter, bringing its total pay pot to $13.12 billion for the first nine months of the year, down 21% from a year ago.
Bank of America also said it planned to change its consumer banking strategy.
It said it would focus on giving customers incentives to do more business with the bank, rather than generating revenue through penalty fees, like overdraft charges.
Excluding the one-time charge, Bank of America's earnings report showed it made $3.1bn in the three months ending in September, far better than analysts were expecting.
That was largely because of a sharp drop in losses tied to defaulting loans.
In the third quarter of last year, the bank reported a loss of $2.2bn.
Its results mirror those of JP Morgan and Citigroup, which were also better than expected.
Bank of America and other banks have been stung in recent weeks by accusations that they failed to review properly documents used in repossessions - so-called robo-signings.
Bank of America had stopped its foreclosure process in all 50 states, but said on Monday that it would resume proceedings in 23 states after reviewing its cases there.
On Tuesday, the White House warned banks that it would hold them accountable for any illegal mortgage practices, with US regulators set to meet on Wednesday to discuss the issue.
Meanwhile, a Bloomberg report said a group of investors have accused Bank of America of inappropriately bundling some mortgages into $16.5bn of bonds.
The report said that money management firm BlackRock, bond investment fund Pimco and the New York Federal Reserve were among the investors, who want to force the bank to repurchase $47bn in mortgage bonds.
The report spooked investors, with Bank of America shares shedding 4.4%.
Related Internet Links
The BBC is not responsible for the content of external sites.