Unions promise to fight government's spending cuts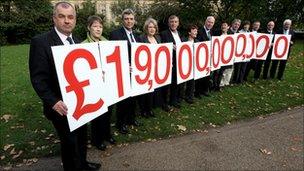 Thousands of trade unionists packed into Westminster Central Hall on Tuesday at the start of the TUC's nationwide protest against the government's spending cuts.
They cheered TUC general secretary Brendan Barber when he warned: "Today's rally and lobby is just the start of our great campaign."
He attacked the government's cuts - to be unveiled on Wednesday.
The cuts, he said, would "plunge the economy back into recession"
Moreover, the cuts would make Britain "a more unequal, more squalid, and a nastier country", Mr Barber said.
The general secretary of the largest public sector union Unison, Dave Prentis, told the audience: "The government is taking a chainsaw to our public services and we are under attack, not because of the deficit, but because of an ideology that hates public services and loves privatisation".
Adopting the unlikely persona of Arnold Schwarzenegger's Terminator, mild-mannered Mr Prentis even warned the chancellor that if the cuts, "which could mean a death sentence for communities and services went through - then we will be back".
Tony Woodley joint general secretary of Unite claimed the government was trying to "assassinate" public services.
He predicted that more than a million jobs would be lost across the economy, and unemployment could soar to 4.6 million by 2011.
"Our battle starts today for public sector workers and private sector workers, to protect the poor and the vulnerable," he said.
No event nowadays is complete without a celebrity and the TUC rally was no exception. Benedict Cumberbatch, rising star of BBC One's Sherlock Holmes spoke out against the impact of cuts in subsidies to the arts.
He said the arts were a force for good and cutting subsidies would make them more elitist and expensive.
He said that "on a selfish level" he did not want to end up "performing for Tory sons and daughters".
One noticeable absentee was Ed Milliband, newly elected leader of the Labour Party, who only last month had pledged at a rally at the TUC Conference that he would attend.
A TUC spokesman tried to smooth over Mr Milliband's absence by claiming he had never been invited.
But nonetheless his failure to attend suggests he is keen to distance himself from claims that he is in the unions' pockets.
Related Internet Links
The BBC is not responsible for the content of external sites.