China rate rise hits Asian shares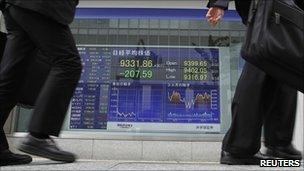 Asian shares have fallen after China unexpectedly raised interest rates for the first time since the onset of the global financial crisis.
Japanese shares fell more than 2% before recovering slightly, while Hong Kong's Hang Seng index also slipped.
Sentiment was also hit by a fall in US shares on Tuesday, as banks suffered after Bank of America posted a $7.3bn (£4.6bn) loss due to a one-off charge.
Analysts warned China's rate rise could continue to undermine share prices.
In the last hour of trading, Japan's Nikkei 225 index was down 158 points, or 1.7%, at 9,382. The Hang Seng was 152 points, or 0.6%, lower at 23,612.
"China's rate hike and the sharp fall on Wall Street were key factors that put a lot of downward pressure on the Nikkei," said Nagayuki Yamagashi at Mitsubishi UFJ Morgan Stanley Securities.
The Dow Jones fell by 165 points, or 1.5%, to 10,978.62.
Earlier on Tuesday, China surprised markets by announcing a rise in its key interest rates.
The People's Bank of China said it would raise its one-year lending rate to 5.6% from 5.31% and its one-year deposit rate to 2.5% from 2.25%.
The move raised concerns among investors about the impact of slower growth in the world's fastest-growing economy.
"We expect negative sentiment to remain in the short run, weighing on risk assets globally, as global markets are very sensitive to slowdown risk in the country that led the world out of recession," said Credit Agricole bank.
Related Internet Links
The BBC is not responsible for the content of external sites.