Rio Tinto in $3.1bn Australia iron ore expansion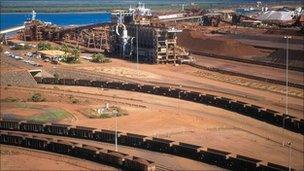 Mining giant Rio Tinto has announced a $3.1bn (£2bn) expansion of its Australian iron ore operations in what it calls the "largest ever mining project" undertaken in the country.
The move would increase production by almost 30%, from 220 million tonnes to 283 million tonnes, the company said.
The announcement comes just two days after Rio and BHP Billiton dropped plans to combine their Australian iron ore operations.
The plans were opposed by regulators.
Both miners are keen to boost production to meet increasing demand for iron ore from the booming Chinese economy, despite a new Australian mining tax.
Iron ore is the principal raw material in the production of steel.
Related Internet Links
The BBC is not responsible for the content of external sites.