South Africa's public sector unions agree pay offer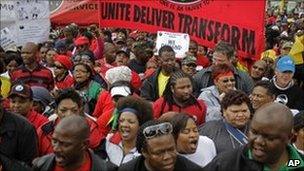 South Africa's public sector unions have accepted a government pay offer, bringing an end to a long-running dispute that saw strikes close schools and hospitals in August and September.
The deal secures for workers a 7.5% wage rise backdated to 1 July, and an 800 rand ($115; £73) housing allowance.
Both major labour unions have now accepted the deal.
The deal "effectively ends" the dispute, said Chris Klopper of the Independent Labour Caucus union.
The larger Cosatu union had already signed up to the deal.
The unions had been demanding a pay offer of 8.6% and a 1000 rand housing allowance.
Members staged a three-week nationwide strike that had a big impact on public services, especially on hospitals where army medics and volunteers were brought in to care for patients.
Related Internet Links
The BBC is not responsible for the content of external sites.