Spending Review: Q&A - what does it mean?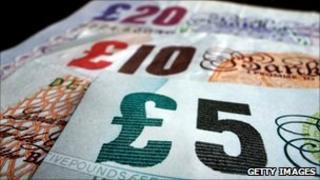 Chancellor George Osborne has announced the government's Spending Review.
It outlines the government's spending plans for the next four years.
It includes extensive spending cuts, which are designed to repair the public sector finances, and cut borrowing.
What do we know so far?
The Chancellor used his speech to announce the key headlines of the Spending Review.
One of the stand-out figures is that welfare spending is to be cut by a further £7bn.
However, much of the exact detail in the Spending Review will not be known for a number of days or weeks.
This is especially true for devolved matters, such as education and health, for which the Scottish, Welsh and Northern Irish governments have responsibility.
What cost savings are being made across government departments?
The chancellor says the main Whitehall departments will make cost savings of £6bn in how they are run over the next four years.
He says the Office for Budget Responsibility forecasts that 490,000 public sector jobs will be shed over the four years of the Spending Review period.
Most will be through natural turnover, although there will be "some redundancies".
Public sector union Unison attacked the move, saying cutting public sector employment by such a level would have a knock-on impact on private sector jobs.
How will individual departments see their budgets reduced?
Departments will have their budgets cut by 19% on average over the next four years.
The Foreign Office will see its budget reduced by 24%.
This will mean a "sharp reduction" in Whitehall-based diplomats.
However, the government says it will honour its commitment to the United Nations on international aid.
Meanwhile, the Home Office will see cuts of 6%, with police spending down by 4% each year.
The budget at HM Revenue and Customs will go down by 15%.
What do we know about the impacts on welfare payments?
There have been a host of changes to welfare - which the government says will save an extra £7bn from that set out in the June budget.
A big saving for the government is a time limit on Employment and Support Allowance. This is a payment to people whose ability to work is limited by disability or illness.
Payment will be limited to one year for those who are able to do some work and whose payment is based on their National Insurance contributions.
This allowance has been replacing incapacity benefit
And as widely publicised earlier, from 2013, child benefit will be withdrawn from families in which one or both parents are higher-rate taxpayers - earning more than £44,000 a year.
If both parents earn less than £44,000, they will continue to receive child benefit. But families with one main earner on, for example, £45,000, will see their benefit stopped. The move will save £2.5bn, the government says.
Other changes include making couples with children work at least 24 hours a week between them in order to be eligible for working tax credit.
And the percentage of childcare claimable under the family element of working tax credit will be trimmed from 80% to 70% - saving £400m.
But there is good news for pensioners - including the better off. Universal benefits for pensioners such as free eye tests, free prescription charges, free bus passes, and free TV licences for the over 75s will remain.
Meanwhile, Winter Fuel Payments will remain as budgeted for by the previous government.
In the longer term - the government plans to introduce of "universal benefit" - which would replace the current system of Jobseekers Allowance, income support and employment support allowance with a single benefit to try and simplify the system.
The chancellor says setting this up will initially cost about £2bn.
Will the state pension age be changed?
Yes, the state pension age for both men and women will rise to 66 by 2020.
This change will take place six years earlier than had been planned by the former Labour government.
The chancellor says this will save more than £5bn a year.
The government argues that the change is vital because of the UK's ageing population.
The NHS budget is being increased, that's good news isn't it?
Yes, but not quite as good as first seems.
Health is one of the few departments not to have been cut - and with a budget of more than defence and education combined the decision has angered some.
However, that does not mean the NHS is not facing a tough time.
The health budget in England will rise by £10bn by 2014 to £114bn, but that only amounts to 0.1% annual rises once inflation is taken into account.
The rises will be more than swallowed by increasing demands from factors such as obesity, the ageing population and the cost of new drugs.
Unions predict it could lead to rising waiting lists and services being closed as thousands of staff lose their jobs.
Is school spending really protected?
Much more so than expected.
Fears that the government would protect only the grants that go directly to schools, while cutting national funds for things like one-to-one tuition and schools' subject specialisms have proved unfounded - though those funds will no longer be ring-fenced for specific purposes.
The Treasury has said the schools budget will go up by 0.1% in real terms each year. This is a rise of £3.6bn in cash terms, but means less than £200m on top of inflation by 2015 - even though the new budget will include a yearly £2.5bn pupil premium for schools with disadvantaged pupils.
Part of the savings from the welfare budget will help fund the increase, but schools will still be expected to make £1bn of "procurement and back office" savings, and teachers will face a pay freeze.
And even though the overall budget will increase, some schools may still face budget cuts, depending on the way the pupil premium and the reallocated pots of national funding are distributed.
In addition, schools will also be hit by a 60% cut in capital spending across the DfE, and a 7% cut, each year, to local authorities, which provide peripheral services, such as transport for children with special educational needs, or after school clubs.
How is social housing being affected?
Rents are to rise sharply for new tenants of council housing.
New tenants will face higher rents at 80% of the market rate - though current tenants will see no change.
The National Housing Federation, which represents English housing associations, warned that the change could lead to thousands of low income families having to pay up to £9,000 a year more in rent.
It said the average rent for a three-bedroom social home is £85 a week, but that under the plans that could triple to £250 a week.
What will happen to the transport budget?
Spending on transport appears to have been protected, with £30bn set to be invested in new transport projects over the next four years.
Schemes that will go ahead include a new suspension bridge over the River Mersey at Runcorn, an upgrade to the Tyne & Wear Metro, and confirmation that the Crossrail project will continue in London.
However, many rail passengers will see a rise in ticket prices.
This follows the announcement that caps on regulated rail fairs - essentially those within peak hours - will rise to 3% above the RPI rate of inflation for three years from 2012.
Will there be an impact on the emergency services?
The police budget is being reduced by 20% by 2014-15.
Home Secretary Theresa May said that by improving efficiency and driving out waste: "We can maintain a strong police service."
However, Labour said the cut could mean fewer front-line police officers.
Shadow home secretary Ed Balls said the budget reduction "will be impossible to achieve without massive cuts to the numbers of police on the street and programmes to fight crime and anti-social behaviour".
And there'll be 13% real cut in funding for fire services over the four years.
How will banks be targeted?
Lenders will face a permanent bank levy.
The purpose of the levy is to encourage the banks to take fewer risks in how they fund themselves and will be placed on that part of a bank's balance sheet which regulators and HM Revenue and Customs believe poses a systemic risk.
This levy differs from the previous chancellor's one-off bonus tax - and will raise more money, the chancellor said.
Legislation to bring in the levy will be introduced to parliament on Thursday.
Why does the government say the cuts are necessary?
The public finances are in a poor state.
Mr Osborne says the UK's public debt interest repayments now total £120m a day, or £43bn a year.
The government says the cuts will allow it to reduce the public debts and trim debt interest payments by £5bn a year by 2014.
"It is a hard road, but it leads to a better future," said the chancellor.
Are there any alternatives to the spending cuts?
Labour argues that the cuts go too far, too quickly.
Shadow Chancellor Alan Johnson said the government was "gambling with growth and jobs".
Meanwhile, the alternative to cutting spending is to raise taxes.
Labour has previously said it will aim for something closer to 67% cuts and 33% tax rises. The party's leader, Ed Miliband, meanwhile has voiced his support for a 50-50 split.
Some left-leaning think tanks have also proposed alternatives.
One - Compass - argues that reforms to the tax system, including introducing a 50% income tax rate at a lower threshold, would reduce the need for cuts.