Boeing profit boosted by strong aircraft orders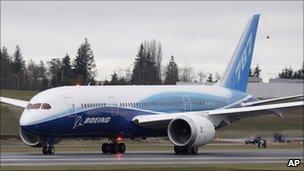 Boeing, the world's largest plane maker, bounced back into profit in the third quarter of 2010 and booked a net 221 plane orders in the period.
The company made net profits of $837m (£531m) during the three months to September, after a loss of $1.56bn for the same period in 2009.
Much of last year's loss was due to a one-off charge because of delays to new planes.
Its new plane, the 787 Dreamliner, has suffered hold-ups for two years.
The first 787 plane is now scheduled for delivery to Japan's All Nippon Airlines in the first quarter of 2011.
Boeing's commercial aircraft division, which competes fiercely with Europe's Airbus, has orders for 3,400 craft on its books, worth $255bn, including 847 orders for the Dreamliner.
Revenue rose 11% higher to $8.7bn.
But the defence division fared less well, with revenue falling 6% to $8.2bn.
The results were well-received by investors, however.
Boeing shares were the best performer on the Dow Jones index constituents, rising by more than 3% to close at $71.36.
The dip in performance from defence was viewed as outweighed by the improvement in commercial aircraft orders.
"So far, the increase in the commercial side is more than compensating for the softening defence business," said Kenneth Herbert, aerospace analyst, Wedbush Securities.
"Airlines are starting to significantly order jets again after essentially taking 18 months off."
Wednesday also saw better-than-expected results from two Boeing customers, Delta Air Lines and US Airways, confirming better times across the aviation sector.
Related Internet Links
The BBC is not responsible for the content of external sites.