Spending Review: Forecasts rely on 'heroic assumptions'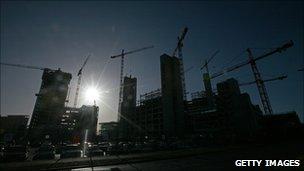 The government is relying on "heroic assumptions" in forecasting economic growth while making big cuts to spending, auditor KPMG has warned.
The economy is forecast to grow by 2.25% next year, factoring in the impact of cuts.
But KPMG's chief economist Andrew Smith said this assumed businesses and consumers would continue spending.
Indicators were already casting doubt on this, he said, suggesting the economy was already losing momentum.
Earlier the Chancellor George Osborne outlined the details of the government's Spending Review that will see government department budgets cut by an average of 19%.
An additional £7bn of welfare cuts are also being made - cuts the government hopes the economy will be strong enough to absorb.
"The resumption of robust growth is crucial to the deficit reduction arithmetic," Mr Smith said.
"But the chancellor is making some rather heroic assumptions.
"Households may continue to save and pay down debt rather than spend, businesses may remain reluctant to invest and export performance could suffer from a lacklustre global recovery."
This, he argued, could prevent the private sector from filling the hole left by spending cuts, as George Osborne hopes.
In June, the Office for Budget Responsibility (OBR), which makes independent economic forecasts for the government, predicted economic growth of 1.2% for this year and 2.25% for 2011.
That factors in a half-percent reduction in annual growth as a result of the cuts.
The OBR also predicts nearly half a million jobs will be lost as part of the cuts.
Related Internet Links
The BBC is not responsible for the content of external sites.