Chrysler recalls 26,000 US vehicles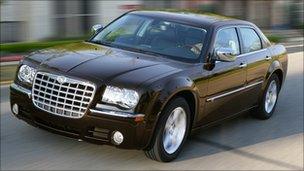 Chrysler is recalling more than 26,000 vehicles in the US because of a malfunction with the power steering.
The problem could result in steering fluid leaking on to a hot engine and causing a fire, the carmaker said in a submission to the US National Highway Traffic Safety Administration (NHTSA).
The recall includes the 2010 models of the Chrysler 300 and Sebring, and the Dodge Avenger, Challenger and Journey.
The 2011 Dodge Ram pick-up truck is also being recalled.
The carmaker's submission to the NHTSA appeared on the administrator's website.
In the submission, the company said it was not aware of any injuries or accidents related to the issue.
It said it had notified US safety regulators of the problem earlier this month.
Dealers will inspect the vehicles and replace as necessary the power steering pressure hose free of charge.
Another 13,300 vehicles are being recalled outside of the US for the same problem.
Related Internet Links
The BBC is not responsible for the content of external sites.