US airlines see profitable period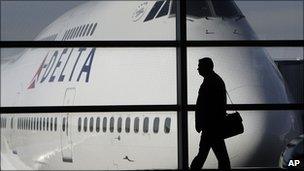 Profits at US airlines have beaten expectations as an increase in business travel boosted the industry.
Delta, the world's second-largest airline, made a net profit of $363m (£229m) in the third quarter, compared with a $161m loss a year ago.
Meanwhile, US Airways announced a profit of $240m, a company record for the June-to-September period.
And AMR, the parent company of American Airlines, reported its first quarterly profit since the third quarter of 2007.
AMR made a net profit of $143m versus a net loss of $359m a year ago.
"While there is clearly much more work to do, our results show significant improvement in revenue and reflect our continued dedication to controlling costs," said AMR chief executive Gerard Arpey.
All three results were ahead of analysts' expectations and their stock rose in New York trading.
Shares in AMR closed up 12.5%, while Delta rose 10.8% and US Airways climbed 7.4%.
"The industry has continued to rebound as business travel has continued to improve over the past year," said Matthew Jacob, an analyst with Majestic Research.
"Many of the airlines have done a good job of streamlining their costs and improving their margins," he added.
Related Internet Links
The BBC is not responsible for the content of external sites.