Toyota to recall over a million cars in US and Japan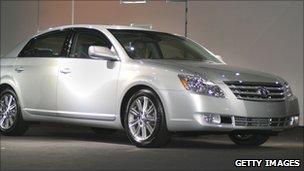 Toyota has announced a recall of more than 1.5 million cars worldwide over brake and fuel pump defects.
The carmaker said the decision affected certain Avalon, Highlander and Lexus cars, including 740,000 cars in the US, 600,000 in Japan and 17,000 in the UK.
It wants to ensure that fluid does not leak from the brake master cylinder, causing the warning light to turn on.
The fault could cause the brake pedal to feel spongy, and braking performance to "gradually decline".
Toyota says that if the brake warning light is triggered, drivers still have another 200 miles to drive to find help before the brake performance deteriorates.
Toyota is not aware of any accidents because of the issue.
The models affected in the UK are some Lexus IS, GS and RX models built between 2003-2005.
The recall also affects 33,000 cars in continental Europe, 60,000 in China, 30,000 in Australia and 50,000 in the rest of Asia.
Car-owners will be notified early in November, and the manufacturer will arrange for the brake master cylinder cup to be replaced with a newly designed version.
The announcement follows more than 10 million car recalls by Toyota already in the past year, including 1.1 million Corolla and Matrix cars in the US and Canada recalled in August because of potentially faulty engine control systems.
Toyota has now issued 14 recalls in 2010.
The carmaker was harshly criticised for not acting sooner over accelerator pedal recalls earlier this year, and was fined $16m by US authorities.
Related Internet Links
The BBC is not responsible for the content of external sites.