BAE faces 'modest' hit from UK defence cuts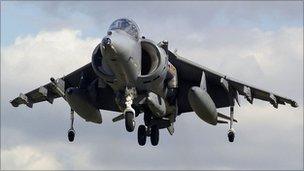 BAE Systems has said that the impact on its business of the UK government's defence cuts will only be "modest".
While the defence group has been hit by some cuts - such as the retirement of the Harrier jet - a number of its manufacturing contracts will continue.
These include the two new aircraft carriers for the Royal Navy, of which BAE is a lead member of the consortium that is building them.
Outside of the UK, BAE said it was enjoying strong business in the US.
BAE said it anticipated "only relatively modest adjustments to its overall financial outlook" as a result of the reduction in government defence spending.
The firm has also been affected by the Ministry of Defence's decision not to take the latest version of the Nimrod reconnaissance plane into service - the Nimrod MRA4.
Some 1,000 people have been working to build nine Nimrod MRA4's at BAE's factory in Stockport - 500 directly employed by the company, and 500 contractors.
There are concerns that some of these jobs will now be lost, but BAE has yet to comment.
However, the factory was already scheduled to close in 2012 following the completion of the Nimrod work.
Related Internet Links
The BBC is not responsible for the content of external sites.