TUI finance chief quits after £117m write-down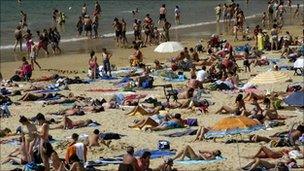 TUI Travel's chief finance officer has resigned after the firm discovered it would have to write off £117m, sending its shares down 11%.
The write-down comes after an audit revealed "irrecoverable balances" in its accounts, following the integration of IT systems in the UK.
As a result, its operating profits for the year to September 2009 were 9.5% lower than it first reported.
Chief financial officer Paul Bowtell will depart at the end of the year.
Shares in the firm closed down 24.5 pence to 205p in London.
TUI Travel, Europe's largest travel company, said the debts had "arisen as a result of failures to reconcile balances adequately in legacy systems".
The company said in a statement that Mr Bowtell's decision to resign followed discussions with the firm's chief executive Peter Long.
Mr Long said: "Paul is behaving honourably and I am disappointed that he will be leaving the group.
"He is one of the most capable chief financial officers I know."
TUI Travel is listed on the FTSE 100 index of leading UK public companies.
Based in West Sussex, it was formed in 2007 by the merger of First Choice Holidays and the tourism division of German firm TUI AG.
TUI AG continues to be the majority shareholder of TUI Travel, owning 58% of the company.
An earlier suggestion that the write-down was related to unrecoverable debts from customers was dismissed by the company.
Related Internet Links
The BBC is not responsible for the content of external sites.