Property sales in UK fall again, Revenue figures show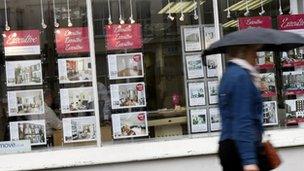 House sales in the UK fell in September for the second month in a row, HM Revenue & Customs figures show.
Completed sales in September were 78,000 - down from 82,000 in August and slightly lower than in September last year.
This was the first a year-on-year fall in sales in 2010.
Meanwhile the Bank of England said mortgage borrowing was becoming more difficult and would stay subdued in the coming months.
"To see the number fall from 12 months ago is a worry," said housing commentator Henry Pryor.
"If transaction volumes continue to fall then we will see even greater uncertainty in house prices in the coming months making it harder for those who have to sell to find a willing buyer."
Several recent surveys and reports from lenders and property professionals have recorded a fall in mortgage lending and a renewed decline in house prices.
On Wednesday the Council of Mortgage lenders (CML) said total mortgage lending in September had been £12bn, the lowest September figure since 2000.
That was 1% lower than in August but 7% down on September last year.
The Bank of England, in its latest monthly publication "Trends in Lending", revealed that this recent downturn in demand for mortgages had taken lenders by surprise and that lending would "remain subdued".
"The shortfall [is] partly reflecting a weakening in confidence among potential homebuyers against the backdrop of some weakening in the outlook for house prices and uncertainty about the effects of government spending cuts," the Bank noted.
It said most lenders expected prices to be stable or to fall in the coming months.
And the Bank warned that borrowing would become more difficult again for those with small deposits, especially first-time buyers.
"While the availability of new secured lending at LTV (loan to value) ratios greater than 75% had increased over the past year, respondents were expecting a decrease over the next quarter," it said.
Related Internet Links
The BBC is not responsible for the content of external sites.