Spending Review: Coin costs are cut to save money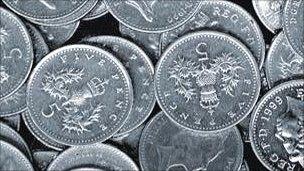 In an attempt to save money, Chancellor George Osborne wants the costs of coins to be cut, the Spending Review has revealed.
The pennies will drop in production costs by £10m a year by using steel covered in nickel plating rather than using copper.
The 5p and 10p coins will be the first to change, the Royal Mint announced.
But the coins will be 0.2mm thicker, which could see vending machines and parking meters requiring an upgrade.
This could cost councils millions of pounds.
The new coins will be in production from January, but will go into circulation in April.
There are 3.8 billion 5p pieces in circulation in the UK, and 1.7 billion 10p pieces in circulation, according to the latest figures from March 2009.
Strong demand from India and China has raised the price of copper, which is used to produce the cupro-nickel coins.
The change to steel should drop the cost of production, and ensure that the coins stay longer in circulation - for up to 30 years.
"It is public knowledge that HM Treasury announced its plans to change the composition of 5p and 10p UK coins from cupro-nickel to nickel-plated steel within the next 18 months," said Andrew Stafford, chief executive of the Royal Mint.
"The savings to be achieved by the Royal Mint announced in the Spending Review report result from the reduction in metal costs associated with the change to 5p and 10p production over the next few years."
Recent research suggested that cash payments will account for less than half of all transactions in five years' time owing to the rise in popularity of debit cards.
However, the Payments Council, which oversees the strategy on payments systems, said that 80% of cash transactions made at present were for less than £10.
Related Internet Links
The BBC is not responsible for the content of external sites.