BT pension scheme strengthened by High Court ruling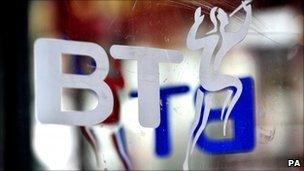 The High Court has decided that the government must stand behind all of the BT pension scheme if the company goes bust.
The judgement clarifies the scope of the so-called "crown guarantee" granted at the time of privatisation in 1984.
BT said the court decision meant the guarantee covered members who had joined the scheme after, as well as before, privatisation.
But the judgement would have no effect on current contributions, BT said.
The BT pension scheme is the largest in the private sector, with 340,000 active, deferred and pensioner members and also a £9bn deficit.
Debate about the precise scope and nature of the crown guarantee has rumbled on for years.
Both the company and the scheme's trustees welcomed the High Court ruling.
"The crown guarantee requires the UK government to pay any outstanding liabilities, transferred to BT on privatisation, for the payment of pensions [in the event of insolvency]," the BT pension scheme trustees said.
BT said: "BT welcomes the fact that the judgment provides our employees and members of the BT pension scheme with further clarity regarding the extent of the government's obligations."
Both sides pointed out that the judge also decided another important point.
The cost of any government bailout would be the cost of buying annuities from an insurance company to provide scheme members with a pension, rather than by making up any deficit contribution payments that might still be owed to the scheme.
"This is a good result for the trustee and members," said Nicholas Heaton, a lawyer from Hogan Lovells acting for the trustees.
"Not only does it bring greater clarity as to extent of the government's obligations, but the outcome is favourable to scheme members."
A Department for Business spokesman said: "The judge has ruled that in the event that BT is liquidated as a result of insolvency, the scope of the government's Crown Guarantee covers members of the company's pension scheme who joined before privatisation and can include ones who joined after privatisation.
"We are currently taking legal advice based on this judgment and will decide next steps in due course."
In February the company agreed to pay off a £9bn deficit in the scheme over 17 years.
Previously BT had agreed to pay an extra £525m into the scheme in 2009, 2010 and 2011, as part of an earlier deficit recovery plan.
It agreed in February to continue for a further 14 years, starting with £583m in 2012 and rising by 3% a year thereafter.
Related Internet Links
The BBC is not responsible for the content of external sites.