Apple iPhone beats BlackBerry as smartphone sales soar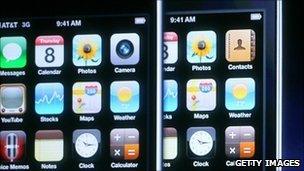 Smartphone sales have risen 78% since a year ago, with sales of Apple's iPhone overtaking RIM's BlackBerry, according to Strategy Analytics.
Apple sold 14.1 million iPhones while RIM sold 12.4 million BlackBerry phones during the July to September quarter.
World leader Nokia sold 26.5 million handsets and kept its lead in the newer smartphone market.
Touchscreen and other component shortages failed to curb the sales surge.
Other smartphone makers collectively sold 24.1 million handsets.
About half of these were made by Sony Ericsson, with Samsung and HTC catching up fast.
These three increasingly use the expanding Android system.
RIM's growth rate of 46% was its fastest ever, but Apple's growth far outstrips its rivals.
Sales of its iPhone almost doubled.
RIM's Jim Balsillie has questioned the validity of the sales comparison, saying its fiscal quarter ended on 28 August, while Apple's ended on 25 September.
He says September is a month in which sales are typically stronger than in August.
Nokia smartphone sales were still strong, rising by 61%.
But Strategy Analysis says Nokia's share of the smartphone market is at a low of 34%.
The Finnish market leader's results were also out on Thursday.
Nokia's new chief executive, Stephen Elop, announced 1,800 job cuts and admitted the company needed to rethink its position in the market.
Related Internet Links
The BBC is not responsible for the content of external sites.