Chevron to develop deep-water Gulf of Mexico project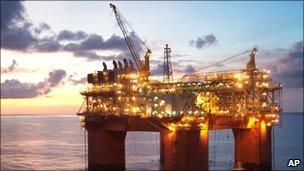 Oil giant Chevron has announced plans to drill new oil and gas wells in the Gulf of Mexico, just days after US authorities lifted a ban on deep-water drilling in the region.
The US government introduced the ban, which lasted six months, in the wake of the BP oil spill in April.
Chevron said it would initially invest $7.5bn (£4.8bn) in exploring the Jack and St Malo fields, 450km south of New Orleans, in water depths of 2,100m.
First production is expected in 2014.
Chevron said the facility would have a capacity of 170,000 barrels of oil and 42.5 million cubic feet of natural gas per day.
The company estimates the fields hold total recoverable resources equivalent to 500 million barrels of oil.
The government's moratorium on drilling in the Gulf of Mexico had been due to expire at the end of November.
But there had been increasing calls for it to be ended because of its economic impact.
Related Internet Links
The BBC is not responsible for the content of external sites.