AIG to raise $18bn from AIA share sale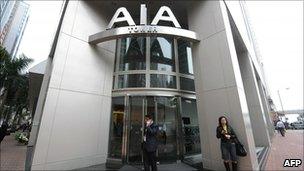 AIA, the Asian arm of US insurance giant AIG, has announced the price of a share offering that it hopes will raise about $18bn (£11.4bn).
Shares will be priced at 19.68 Hong Kong dollars ($2.53; £1.61) when they begin trading next week.
The money raised will be used to help AIG repay the US government, which bailed out the insurer during the financial crisis.
AIG failed to sell AIA to UK insurer Prudential earlier this year.
The amount raised by the share offering could rise to more than $20bn if additional options are exercised.
AIG is 80%-owned by the US government after it was bailed out for $182bn during the financial crisis.
Last month, the company announced plans to begin repaying the US taxpayer.
These included paying the Federal Reserve Bank of New York its full $20bn.
Cash raised from the AIA share offering could be used to pay this debt, reports suggest.
Related Internet Links
The BBC is not responsible for the content of external sites.