Betfair flotation values firm at £1.4bn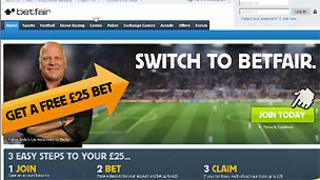 Online sports betting business Betfair has priced its share flotation on the London stock market, in move which values the total company at £1.4bn ($2.2bn).
The sale of 15.2% of the company took place at a price of £13 per share.
The 16.2 million shares in the gambling firm were sold towards the top of the £11-£14 planned range.
Betfair was founded 10 years ago, and says it is the world's largest business of its kind.
The shares rose to £15.60 in early conditional trading, up 20% from the initial public offering price.
The existing shareholders have the option to allot an additional 1.5% of the company to meet surplus demand from the offering.
Betfair has three million customers and pioneered person-to-person betting, where punters bet against each other rather than the bookmaker on a range of sports.
The company was founded by Andrew Black, a former professional gambler, and Edward Wray, a former JP Morgan trader.
The site also offers poker and other traditional casino betting forums.