BA to restore some crew travel perks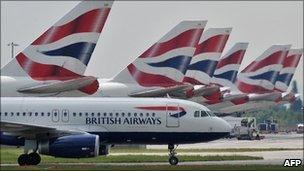 British Airways has said that it will restore basic travel concessions to cabin crew who went on strike earlier this year.
The deal, which gives staff 90% off the cost of air travel, will be resumed on 26 October.
However, some crew may not be eligible for the concessions until 2013.
The issue of travel concessions has been one of the main grievances between BA and the Unite union in the long-running and bitter dispute.
Despite the compromise, however, there are still question marks about who will receive the perks, and when.
This is because BA has not restored seniority to those cabin crew members who went to the back of the queue for travel perks as a result of the strikes.
BA said that seniority would only be restored on the condition of good behaviour for the next three years.
The airline also said the concession on travel perks was conditional on Unite making a committment not to pursue any legal action against BA.
The BBC's employment correspondent Martin Shankleman said the concession by BA showed that the two parties "may be moving towards a resolution of the dispute".
BA boss Willie Walsh had previously said that he would not reinstate the travel perks.
The airline's cabin crew workers have staged 22 days of strike action since March, costing the airline £150m.
When the dispute began in November last year, it centred on changes to staffing levels and working conditions.
However, the main bone of contention in recent negotiations has been the removal of travel concessions and other disciplinary measures taken by BA against crew members as a result of the strikes.
Related Internet Links
The BBC is not responsible for the content of external sites.