5,000 hit by fraud on loan firm Help Loan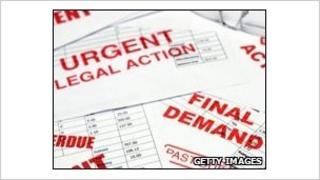 At least 5,000 people are being pursued by debt collectors working on behalf of a payday loan firm, for sums they did not borrow in the first place.
Police believe fraudsters managed to get loans paid out by Help Loan using personal details of innocent Britons.
The Finland-based company believes the fraud has cost it at least £1.5m, Radio 4's Money Box programme has learned.
The firm says it has now taken steps to tighten security.
Fast loans
Help Loan only started trading in the UK this summer. It offers people loans of between £50 and £300 at very high rates of interest which they must repay within 28 days. These are often known as "payday loans" as they tide cash-strapped people over until their next salary payment.
The company's website says its application process takes no more than 10 minutes.
One of the victims of the fraud has complained that the company needs to do more to verify that the applicant is who he or she claims to be. Alyson Lampard from Bristol told Money Box that she had her personal details used without her permission to commit the fraud.
She received a letter in August from Help Loan which said it expected her to repay a loan by September.
She said: "It said my payment of £513 should reach them before 23 September. I hadn't taken out any loan with this company so I rang them."
Alyson discovered that the firm had her correct date of birth but the bank account details and mobile phone number on the application were not hers.
Identity problems
She believes Help Loan should have had better security systems in place to prevent this sort of fraud. She said: "They need to make their whole site a lot more secure and be sure that the person who is applying for the loan is the person they say they are."
Since Alyson looked at the application process, it has been modified.
In the meantime thousands of people have contacted the site Action Fraud, run by the National Fraud Authority, to complain they too have received a similar letter.
Help Loan, which is registered as MCO Capital at Companies House, has apologised to people who have received these letters and says it has reviewed its processes.
Changed procedures
It said: "MCO Capital has been a victim of fraud and deeply regrets the inconvenience and distress caused to people who have also been victims and had false applications for loans made in their name.
As soon as the fraud became apparent in August, MCO Capital took steps to review its procedures and is fully co-operating with the police and trading standards."
Money Box has learned that the firm sought external help to try to check the identity of customers, using a system offered by the credit reference agency Experian.
Experian confirmed that one of its products had been used, saying: "MCO used one part of Experian's verification service that cross-references an applicant's name with their address to provide an indication as to whether they live at that address.
"In terms of other measures the company uses, MCO is best placed to comment on its processes."
Enforcement stopped
The City of London police says those affected should write to Help Loan via the debt recovery firm it is using, Intrum Justitia, in order to register this as a "false loan".
It says this will halt any enforcement action by Help Loan or Intrum Justitia whilst the police enquiries continue.
Neil Munroe, external affairs director for the credit reference agency Equifax, said he considered the risks of a person's credit record being badly affected by this episode were low. "The majority of payday loan firms don't provide information to the credit bureaux," he said.
"The only thing that's likely to be there if there's been a credit check would be that someone has accessed your credit file to look at it."
BBC Radio 4's Money Box is broadcast on Saturdays at 1200 BST, and repeated on Sundays at 2100 BST.
Your comments
I have had a fraudulent loan taken out in my name. The first I knew of this was when I received a demand for repayment of £513 from MCO Capital. I phoned the Fraud Action line who advised I obtain my credit record at a cost of £2 each time. One report showed that a search had been done by MCO capital on August 30th without my permission. I sent a letter to MCO Capital informing them that I had not asked for the loan and would not be making a repayment. I sent the letter by recorded delivery on 18 September. Having received no reply I wrote again on 10 October and have still not had the courtesy of a response. Duncan, Barton St David, Somerset
I have been a victim of identity fraud and have been sent a demand letter from Helploan (MCO Capital) for repayment of a loan about which I know nothing. I have had to write numerous letters - to MCO, to Intrum Justitia (their debt collecting company), to Experian, to Trading Standards etc. I have been active on a web site forum where hundreds of people have posted their experiences and have been helped by fellow victims to resolve their problems with such fraudulent loans! GM Lindsay, Kinross
I received some demands from a company called helploan. Having had no dealings with them, I assumed it was part of a scam and ignored them. I now have a letter from 'Intrum Justitia' demanding money which may be linked to the same thing. Hugh, Bristol
Both my wife and I received on 9 September 2010, separate demands from Helploan for the repayment of an alleged "agreed loan amount" of £513 by 3 September for a loan period 6 August-3 September. The letter contained our dates of birth within the reference number and was addressed and despatched to our previous address from which we moved 10 months ago. The letter had no conventional letter heading containing address and telephone number but at the bottom stated Helploan was a trading name of MCO Capital Ltd. On 8 October we both received separate demands dated 5 October for the repayment of the "outstanding loan" of £513 plus the late payment fee of £213. The letter was again addressed to our previous address and warned that if full payment was not made the accounts would be transferred to their debt collection agency Intrum Justitia. We have never previously heard of Helploan or MCO Capital Ltd. We have never taken out any such loans. On 22 October, we both received a demand for payment from Intrum Justitia stating that they were acting for MCO Capital Ltd and if payment of the outstanding balance of £726 was not made within 48 hours, they would consider taking legal action or instruct a Collections Agent to visit my home address to collect the outstanding balance. Bill, Haywards Heath