Lloyds shareholders have held a protest meeting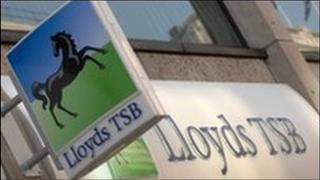 Lloyds Banking Group shareholders who lost money after the former Lloyds TSB bought Halifax Bank of Scotland have held a protest meeting in London.
The shareholders allege that former chancellor Alistair Darling and Lloyds directors withheld vital information in the run-up to the takeover in 2009.
The meeting was held by protest group Lloyds Action Now, which is suing Lloyds directors and the government.
Lloyds says it gave shareholders "thorough and appropriate information".
Lloyds TSB bought Halifax Bank of Scotland (HBOS) in January 2009, subsequently renaming the business Lloyds Banking Group.
However, when the extent of the combined bank's financial woes were then revealed - at the height of the financial crisis - its share price collapsed.
The government then had to step in and take a large minority stake in Lloyds, which currently stands at 41%.
Lloyds Action Now (LAN) claims an undisclosed £25.4bn Bank of England loan, given to HBOS a month before the takeover was completed, should have been made public.
LAN says that private investors lost as much as £2bn as a result of the collapse in Lloyds' share price and the end of dividend payments.
They are suing Lloyds directors and the government for compensation.
Adrian Lithgow, campaign spokesman for LAN, said the meeting, held in the Ambassadors Hotel in Bloomsbury, London, was attended by about 250 people and was "highly successful" in that it saw questions raised by Lloyds shareholders.
He told BBC News: "We are not saying this is a fraud as such, but we have good reason now to know that Lloyds directors and the government did not declare to shareholders the true state of HBOS's finance when the merger was going through.
"We don't believe that it was up to Lloyds shareholders as private individuals to shoulder the financial burden of saving HBOS."
The protest meeting in London follows similar events during the past week across the UK.