Stress levels 'leading to more time off work'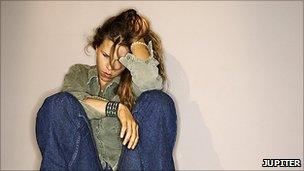 Time off work due to stress has risen in the past year, and is a greater problem in the public sector than in the private sector, research suggests.
Public sector workers took on average 9.6 days off sick over the period, three more than their private sector counterparts, the Chartered Institute of Personnel and Development said.
More than one in three employers said time off through stress had increased.
The institute said the recession was to blame for increased stress levels.
Extra workload, worries about company reorganisations and domestic problems had led to higher levels of anxiety and depression, employers reported.
The research also found that more employees were struggling into work even when they were ill, because of concerns about losing their jobs.
"Compared with the private sector, more public sector employees are in challenging public facing roles such as social work, policing, teaching and nursing where they often have to deal with people in difficult and emotionally charged situations," said Dr Jill Miller, an adviser to the institute.
Related Internet Links
The BBC is not responsible for the content of external sites.