Halloween boost for spooked retailers
By Will Smale
Business reporter, BBC News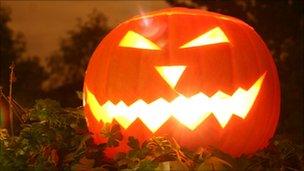 Halloween has never been more welcomed by the UK's spooked retailers.
With households cutting back on their spending as they fear the impact of the government's spending cuts, the current retail environment is a scare story for shops.
Add VAT rising from 17.5% to 20% in January, and some traders fear a horror show in the months ahead.
Small mercies then for Halloween, which is giving many retailers a substantial trading boost ahead of 31 October - a £280m boost according to an industry estimate.
This figure comes from retail analyst firm Planet Retail, which says Halloween has never been more lucrative for the UK High Street.
People who do not warm to Halloween's opportunity for ghoulish high jinks may bemoan its ballooning US-style commercialisation, but Planet Retail says that UK spending on Hallowe'en goods rose from just £12m in 2001 to £235m last year - a 20-fold increase.
But why has Halloween - originally a pagan festival - grown so much in popularity and retail clout?
Perhaps the key reason is the fact the supermarkets have massively increased their range - and promotion - of Halloween goods.
Go back 20 years and you could have picked up a toffee apple and pumpkin with your weekly shop before Halloween, but that was about it.
Today, the supermarkets have whole aisles of Halloween goods - everything from fancy dress to decorations, toys, games and novelty bakery products.
Tesco, which this year has no less than five different types of toffee apples on offer, estimates that it will sell £55m worth of Halloween-related products this year, up from £14m in 2005.
Halloween is, in fact, so lucrative for Tesco that the company says it has overtaken Valentine's Day in terms of the sales boost it provides. Only Christmas and Easter seeing higher revenues.
Meanwhile, Sainsbury's is predicting that its Halloween sales this year will be more than 50% higher than in 2009.
While chocolate may not be a traditional Halloween gift, the UK's chocolatiers are increasingly getting in on the act, with Cadbury having launched its first range of Halloween-specific treats.
Targeting what it sees as a £12m market opportunity, it has brought out a Halloween version of its popular Creme Egg, called the Screme Egg.
This uses natural green colouring from Kiwi fruit to dye the fondant "yolk" dark green, but the taste remains the same.
Jo Grice, from Cadbury's marketing department, says the firm has benefited from its February takeover by US giant Kraft Foods, which was sharing its "experience in the huge US Halloween market".
She adds: "Confectionery is a mature market, but as Halloween gains a greater foothold in the UK, consumers increasingly want quality branded novelty products over cheap treats.
"Cadbury's new Halloween range provides a platform for significant growth in the future."
Another factor behind the big increase in UK sales of Halloween products is that it is no longer just children who get into the scary spirit of things - more adults are now holding Halloween parties.
So much so, that Tesco says that out of all its Halloween product sales last year, the biggest growth was recorded by adult costumes.
Emma Angel, who runs Angels Fancy Dress, the UK's oldest custom hire business, says the growing popularity of vampire TV shows and films - such as True Blood and Twilight - has helped drive the increase in the number of adults celebrating Halloween.
She adds that people are also keen to take their mind off any current financial woes, or fears of unemployment.
Ms Angel says: "The festival is all about escapism, and it is not surprising that consumers are buying into the vampire-related phenomena."
Related Internet Links
The BBC is not responsible for the content of external sites.