Cameron picks winners to create UK growth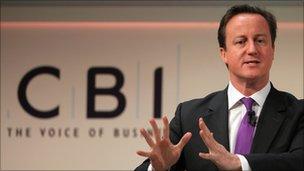 It was as if a pact was agreed between political and industry leaders at the annual CBI business conference on Monday.
Private companies would take on the task of delivering economic growth, and thus "a recovery that is sustainable", in the words of CBI president Helen Alexander.
Government, in turn, would "create an environment in which businesses are confident enough to invest", in the words of Prime Minister David Cameron.
To make it happen, Mr Cameron vowed to invest billions of pounds of taxpayers' money to improve the UK's infrastructure.
"Other countries understand the importance of modern infrastructure to economic growth," he said.
He also vowed to go out there "banging the drum for trade".
"I was called a bit of a salesman," he said. "Well, right now, we need a bit of a salesman for Britain."
But it was in the area of government support for cherry-picked industries that there seemed to be a philosophical role reversal with the former Labour government.
Mr Cameron said targeted government support for "those industries where Britain enjoys competitive advantage" would be a key priority.
By contrast, former business secretary Lord Mandelson consistently said it was not the government's role to "pick winners" in a free-market economy.
Hence, while the former Labour Party pursued a policy traditionally deemed right-wing, it seemed Mr Cameron was prepared to adopt policies traditionally considered leftist.
To Mr Cameron, the distinction amounts to "a sterile debate between laissez-faire and hands-on government".
"The question isn't, 'Should government be involved?' - because it is involved. It taxes, it regulates, it invests," he told business leaders.
"The real question is, 'What is the right kind of involvement?'"
Other major - and rival - economies are offering targeted assistance, Mr Cameron pointed out, so the UK should do so too.
"In America, President Obama is ramming home the advantage they already enjoy in clean technology with $38bn (£24bn) of investment," he said.
"And Germany is building on the success of their car industry by investing 500m euros ($702m; £446m) in electric car technology.
"What they understand is that when you're looking for growth opportunities, you don't stick a pin in a map and drop down a research centre here or arbitrarily back an industry there - you go with the grain of what is already working."
Before insisting: "We understand that too."
Extraordinarily, perhaps, the leader of the opposition Labour party, Ed Miliband, seemed to agree.
"I believe our government did not do enough to support other sorts of industry in this country," he said in a speech at the CBI conference.
"Scarred by the failed exercise in picking winners decades ago, government has been too afraid to support the industries of the future.
"We let other countries steal a march on us."
Amongst the worthy deserving government support, Mr Cameron highlighted:
Green technologies in the North East
Creative industries in London, Manchester and Glasgow
Financial services in Edinburgh
Retail, pharmaceuticals and advanced engineering.
"We have made the strategic decision to get behind these strengths," Mr Cameron said.
But the prime minister insisted support would not be limited to large sectors already in existence.
"We've got to back the big businesses of tomorrow, not just the big businesses of today," he declared.
Such support would not take the form of subsidies, however.
Rather, Mr Cameron was eager to "challenge the status quo" where "some industries are too uncompetitive, with significant barriers to entry and obstacles to growth".
In this area, Mr Cameron took issue with past Tory policy.
"I believe in competition," he said. "I believe when new entrants challenge big business, everyone wins. This hasn't always been the view of the government.
"In the 1980s, initially the government attempted to build British Telecom and Cable and Wireless into 'national champions' by sheltering them from competition."
The UK's business community should expect dramatic changes, Mr Cameron said.
"In some ways it's wrong to call it a strategy," he said. "It's more a wholesale change in attitude."
Related Internet Links
The BBC is not responsible for the content of external sites.