Dollar at new 15-year low against yen on G20 comments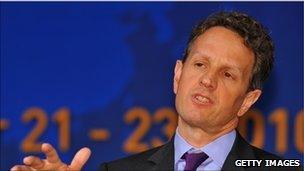 The US dollar has hit a 15-year low against the yen after the G20 nations agreed to avoid a currency war.
The weekend talks, in South Korea, saw the group of 20 major advanced and developing nations, agree to avoid competing to lower their currencies.
The meeting sparked another fall in the US dollar, which fell 1% against the yen to 80.52 yen.
The lower dollar also boosted the price of metals. In London trading, base metals rose by an average of 2.5%.
Copper was at its strongest since peaking at a record in July 2008, hitting $8,549 a tonne, while lead and zinc hit their highest in nine months.
The dollar is being undermined in part by the view that the US will start a new round of Quantitative Easing (QE).
That has the effect of pumping money into the economy.
A lower currency can help to boost a country's exports by making the goods relatively cheaper to foreign buyers.
China and the US are at the centre of the story, with the US most concerned about the level of China's yuan, which does not trade freely on the currency markets.
The US wants China to allow the yuan to rise to make its own goods cheaper within the country, and China's goods more expensive for US citizens.
At the weekend, US Treasury Secretary Timothy Geithner said he believed China was now "committed" to allow the yuan to rise in value.
Earlier this year, China promised greater "flexibility" in its currency approach, but since then the yuan has only increased slightly in value.
Many in the US say the yuan remains undervalued by as much as 20%.
Related Internet Links
The BBC is not responsible for the content of external sites.