Households 'shun new borrowing'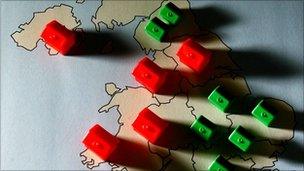 Major banks have offered more evidence of a subdued mortgage market in the UK with budget uncertainties also keeping other lending low.
The downward trend in the number of mortgage approvals for house purchases continued in September, the British Bankers' Association (BBA) said.
This suggests that activity in the housing market is likely to remain subdued in the coming months.
There was also little appetite for new personal loans among consumers.
The number of mortgages approved for house purchases fell slightly compared with the previous month to 31,104, as low demand for new loans continued.
This was below the average of the previous six months, the BBA said.
The average value of these approved loans was £142,900, which was some £5,100 lower than the average of the previous six months but 4.1% higher than a year ago.
Net mortgage lending by the major banks, which strips out redemptions and repayments, stood at £1.6bn in Setember, down on the previous month's total of £2.5bn and the lowest figure since October 2000.
"Subdued mortgage activity and little demand for unsecured credit are a reflection of household uncertainties ahead of the Spending Review," said BBA statistics director David Dooks.
"Demand for new mortgages remains low despite more properties on the market and falling house prices."
This reluctance to borrow is also seen in the BBA's figures for unsecured credit.
Repayment of credit card debt is narrowly outstripping the amount of new borrowing. The only reason that credit card borrowing in total rose slightly in September was because of the build-up of interest on existing debts.
Demand for personal loans - often used to buy big ticket items such as cars or for major home improvements - also continued to dip.
New borrowing via these loans was 7% lower in September than a year earlier.
People may not be renovating their properties, but there is little suggestion that they want to buy a new home.
Most recent house price surveys show that prices have reached a plateau as fewer buyers enter the market and the number of sellers goes up.
One mortgage broker suggested that banks were still being conservative when it came to handing out mortgages.
"Figures continue to remain gloomy and the expected pre-Christmas bounce has so far failed to materialise," said Andrew Montlake, of mortgage broker Coreco.
"While the fall-out from the Spending Review may make buyers more cautious, it is ever-tightening lending criteria that continues to stifle the needs of many decent borrowers who wish either to remortgage or move into their first property.
"It is a shame there are many who are unable to take advantage of some of the cheapest mortgage products we have seen, or are likely to see, for a long time."
Related Internet Links
The BBC is not responsible for the content of external sites.