Savers 'losing £12bn in interest'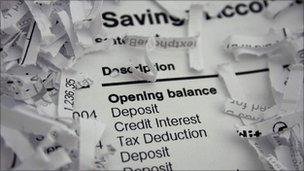 Savers are losing out on a possible £12bn in interest payments by staying with low-rate accounts, according to Which?, the consumers' association.
It said that nearly half of 1,200 savings accounts in the UK paid interest of 0.5% or less.
Which? said if all savers switched to accounts with the highest rates they could receive an extra £12bn a year.
The British Bankers' Association (BBA) said that details of savings rates were readily available.
Which? said that few banks made interest rates clear to customers on their statements.
The association added that they also failed to tell these customers about better rates available on other accounts.
"Banks are depriving British savers of £12bn a year by keeping us in the dark about the pitiful interest paid on hundreds of savings accounts," said Which? chief executive Peter Vicary-Smith.
However, interest rates on the best deals would swiftly change if everyone changed their account, so the £12bn figure could only be theoretical.
Mr Vicary-Smith added that people could still switch for better deals in many cases.
"Whilst we pressure the banks to be more upfront about their rates, people can take action and potentially add hundreds of pounds a year to their savings by moving their money to a better account," he said.
The BBA, which represents the major banks, said: "Banks provide a variety of savings products to suit people's needs and have no interest in keeping customers in the dark about the products they use.
"Information is readily available in branches, online and from a variety of other sources, including newspaper best buy tables and comparison websites and customers will also be automatically notified if there are changes resulting in materially lower rates so they can switch their funds.
"Savings rates vary depending on the amount customers have to save and the time they can afford to leave the cash untouched.
"Customers with money to invest often look to a cocktail of saving products to meet their savings needs, balancing longer-term, higher interest products with instant access accounts."
Related Internet Links
The BBC is not responsible for the content of external sites.