Anger as boss says Fiat 'better off without Italy'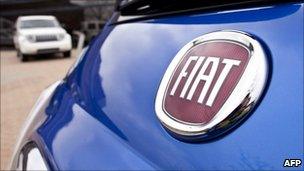 Italian unions and politicians have responded angrily to suggestions by the head of carmaker Fiat that the company would be better off without Italy.
Sergio Marchionne cited the country's poor record of labour efficiency and industrial competitiveness.
He said improvements to Fiat's profits were made despite continuing loss-making at its Italian plants.
But politicians said that the Italian taxpayer was behind Fiat's continued status.
Mr Marchionne had said that eliminating loss-making Italian plants would increase financial gains.
"Not a cent from the two billion euros of profits forecast for 2010 will be generated in Italy," he said in comments late on Sunday.
The company reported a sevenfold jump in profits, making 190m euros ($266m; £169m) in net profit in the past three months, up from 25m euros a year ago.
"Fiat cannot continue operating these factories at a loss forever," Mr Marchionne said, adding that the country ranked 118th out of 139 countries in work efficiency and 48th in terms of industrial competitiveness.
But the speaker of parliament, Gianfranco Fini, said the only reason Fiat was only still a "colossus" was due to the Italian taxpayer, referring to government bonus schemes introduced to support the automobile industry during the global financial downturn.
Fiat has been waging a bitter battle with the Italian unions over the company's plans to improve productivity through stricter working conditions and shut down a factory in Sicily.
The head of Italy's biggest union, CGIL, Guglielmo Epifani, said the CEO's comments reflected his underlying intent to abandon the country, saying: "The truth is that Marchionne would like to leave Italy."
Related Internet Links
The BBC is not responsible for the content of external sites.