ArcelorMittal profits up 48% but demand is slowing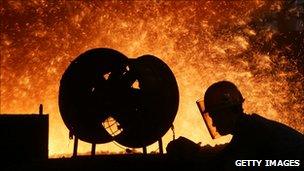 ArcelorMittal, the world's biggest steel company, has said profits jumped 48% in the three months to the end of September compared with the same period a year earlier.
Third-quarter net profit was $1.35bn (£858bn), up from $910m a year earlier.
Sales increased by 30% against a year ago, to $21.04bn.
But compared with the second quarter this year, earnings were down and the company warned of higher raw materials prices and slowing demand.
ArcelorMittal's chairman, Lakshmi Mittal, said the business had not matched expectations and that he was uncertain about the final three months of the year.
"Our outlook for the fourth quarter remains cautious as the expected higher input prices continue to work through the business and demand remains muted, though with some regional differences."
Steel spot prices have fallen but iron ore - one of the key raw materials for steel - prices have risen.
Steel demand has been growing although it remains below pre-crisis levels.
ArcelorMittal's shares were more than 4% lower in morning trading and European steelmakers lost ground too on the warning of a worsening outlook.
ArcelorMittal, headquartered are in Luxembourg, is responsible for around 6% of the world's steel output.
Related Internet Links
The BBC is not responsible for the content of external sites.