War-hit countries 'most corrupt'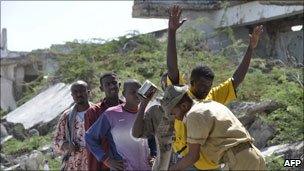 War-torn states are still seen as being the most corrupt in the world, according to a new report from Transparency International.
The Berlin-based watchdog monitors perceived corruption and has published its annual report, based on a poll of businesses and people in 178 nations.
The worst country is Somalia, followed by Burma, Afghanistan and Iraq.
Denmark, New Zealand and Singapore tie for top place as the world's least corrupt countries, with the UK 20th.
Transparency International was founded in 1993 and is a non-governmental organisation that monitors corporate and political corruption.
In its latest report, Russia is rated as among the worst for corruption, in 154th place. And Italy, down in 67th spot, now comes below Rwanda.
Meanwhile, emerging economic powerhouse China is in 78th place.
It is the poor and vulnerable who suffer the consequences of corruption, Transparency International found.
Hence, more should be done to enforce existing rules and laws, according to Huguette Labelle, chair of Transparency International.
"These results signal that significantly greater efforts must go into strengthening governance across the globe," she said.
"With the livelihoods of so many at stake, governments' commitments to anti-corruption, transparency and accountability must speak through their actions.
"Good governance is an essential part of the solution to the global policy challenges governments face today."
Chile and Uruguay are rated the least-corrupt countries in Latin America. In the Middle East, the best placed is Qatar.
Top-rated African nation is Botswana, in 33rd place.
Transparency International concludes that some countries have become more corrupt in the past year, particularly the Czech Republic, Hungary, Italy and the US.
Despite falling down the list, perhaps because of corruption revealed by the financial crash, the US still comes near the top at number 22.
Related Internet Links
The BBC is not responsible for the content of external sites.