Singapore takeover bid for ASX questioned in Australia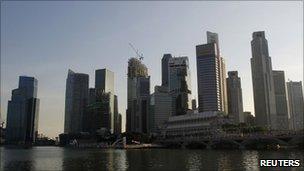 Politicians in Australia may block a bid for its country's stock exchange by the Singapore bourse.
On Monday, the Singapore stock exchange (SGX) made a multi-billion dollar bid, which has yet to obtain regulatory approval, for the firm that owns the Australian Stock Exchange (ASX).
If approved, the $8.3bn (£5.2bn) deal would be the first stock exchange merger in the Asia Pacific region.
But the opposition Liberal Party has raised concerns, as have the Greens.
The two parties command a majority in Australia's Senate, where they could block the deal.
"We've got to consider carefully, when a monopoly in the Australian market is being bought out by an overseas interest, whether that is in our interest," said Liberal Party treasury spokesman Joe Hockey.
'Tramples over democracy'
Meanwhile, Greens' leader Bob Brown said Singapore's human rights record counted against any deal.
"This is a state that tramples all over freedom of speech, democracy, the rights of oppositions, the ability for public discourse," he said.
He added that he was concerned by Singapore's execution of an Australian drug smuggler in 2005, despite Australian pleas for his life.
If the deal does go ahead, it would enhance Singapore as a major financial hub in the region and benefit Australian investors by giving them greater access to Asian markets.
A merged exchange would hope to compete more effectively with Hong Kong.