Overdrafts: RBS-NatWest rejig charges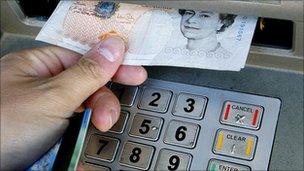 The Royal Bank of Scotland (RBS) is overhauling its charges for people who go overdrawn without permission.
Customers will be charged £6 a day for any unauthorised overdraft of more than £6, leading to significant costs for those who linger in the red.
But interest charges on these overdrafts, of up to 20%, will be scrapped when changes come in for all RBS and NatWest customers in February.
Overdraft charges were the subject of a recent major court battle.
Banks defeated the Office of Fair Trading's attempt to regulate bank charges following a long-running legal case, but many have since made changes to their charging structures.
RBS, of which NatWest is a subsidiary, said that pressure from customers to simplify the system had led to the proposed changes.
Now three different charges - the maintenance charge, the paid referral fee, and the guaranteed card payment fee - will be merged into the single unarranged overdraft fee of £6 a day.
This will not be charged to customers with a basic bank account, which generally does not have any overdraft facility, nor to those with a student or graduate account.
Another fee for a bounced cheque, direct debit or standing order will go up from £5 to £6 for each item - up to a maximum of £60. This charge stood at £38 just over a year ago.
No interest will be charged on the amount overdrawn without permission. At present, this is about 15% to 20% a year.
At the start of October last year, RBS - which is majority-owned by the taxpayer - moved to cut its overdraft charges ahead of many of its rivals.
The charge for a payment on an overdrawn account was cut from £30 to £15. The same happened to the guaranteed card payment fee. The charge for an overdrawn account was reduced from £28 to £20 a month.
It has now been announced that from February 2011, these three will be merged to the unarranged overdraft fee of £6 a day - leaving the charge cheaper for those who briefly go into the red without permission, but potentially more for those with a long-term unauthorised overdraft.
None of the changes affect those with an overdraft facility that has been arranged in advance.
"We asked our customers about products and charges and they told us they wanted them to be simply and easy to understand," said Susie Wands, head of overdrafts at RBS.
However, banks have been under some pressure from the government - which said in its coalition document that it intended to strengthen consumer protection in the area of bank charges.
RBS said that it would also introduce a text message and e-mail service to warn customers that they would be charged for going into the red.
Related Internet Links
The BBC is not responsible for the content of external sites.