Construction sector boosts GDP growth figures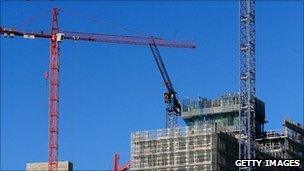 Tuesday's economic growth figures for the three months from July to September were higher than had been expected, even though they showed a slowing of growth to 0.8% from 1.2% in the previous quarter.
But the Office for National Statistics (ONS), which compiles the figures, said that the fundamental growth picture was the same as in the previous quarter, with just one or two sectors making a big difference.
"It is lower than the second quarter figure of 1.2% growth," ONS chief economist Joe Grice told BBC News.
"But that figure, as we said at the time, was very much affected by the adverse weather in the first quarter, which affected construction in particular."
The construction sector has indeed had an extraordinary year.
In the weather-affected first three months of the year, it contracted 0.8%. It then staged a remarkable recovery in the second quarter, growing an incredible 9.5%. In the third quarter, it grew another 4%.
It means that in the year since the recession ended, construction has grown by 11%.
Looked at over the longer term, construction was one of the sectors that suffered the most in the recession and so has the most scope to grow in the recovery.
Other sectors such as the service sector, for example, contracted much less in the recession and have demonstrated less impressive growth since it ended.
Find out more using the slideshow below.
Related Internet Links
The BBC is not responsible for the content of external sites.