US house prices dip again in August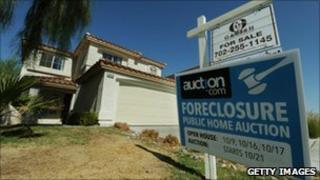 US house prices began falling again in August after the expiry of homebuyers' tax credits, a survey suggests.
Prices were down 0.3% versus the previous month, on a seasonally-adjusted basis, according to the Case-Shiller index of 20 major US cities.
The data - which is actually an average of house prices during June, July and August - was lower than expected.
Separately, figures showed US consumer confidence rose in October, although it remains at historically low levels.
Unsold inventory
A tax credit for homebuyers expired in April, leading to a steep drop in home sales over the summer.
That same effect now appears to be feeding into house price data, which are published with a two-month lag.
June and July saw more stable prices, suggesting that the actual drop-off in prices in August was sharper than the fall in the index, which tracks a rolling three-month average.
Compared with last year, the index published by rating agency Standard and Poor's was up 1.7%, somewhat lower than analysts' expectations of a 2.1% year-on-year rise.
But prices remain 29% below their peak of May 2006, according to the index, having only recovered some 5% since bottoming out in May 2009.
Meanwhile, the inventory of unsold houses - including many foreclosed properties owned by the big US mortgage lenders - remain at a historically high level, suggesting continued downward pressure on home prices.
According to housing market analyst Bill McBride, the unsold houses represent almost 11 months worth of supply, well above the historic norm of four to five months.
"The housing market appears to have stabilised at new lows," said David Blitzer, chairman of the index committee at Standard & Poor's.
"At this time, it does not seem that any of the markets are hanging on to the temporary momentum caused by the homebuyers' tax credits."
Consumer confidence
Meanwhile, consumer confidence rose more strongly than expected in October, but still remains at historically low levels.
The Conference Board's index of US consumer confidence increased to 50.2, up from a revised 48.6 in September, and above expectations of a 49.2 reading.
"Consumers' assessment of the current state of the economy is relatively unchanged, primarily because labour market conditions have yet to significantly improve," said Lynn Franco, director of the Conference Board's consumer confidence centre.
"And, despite the uptick in expectations, consumers continue to be quite concerned about the short-term outlook."