Tax-free Junior Isa plan unveiled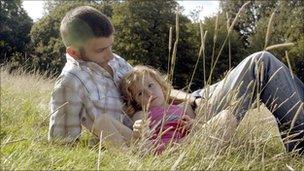 A new tax-free savings account for children is to be introduced as some compensation for the loss of Child Trust Fund contributions.
The Junior Individual Savings Accounts (Isas) will lock in funds until the child reaches adulthood.
But, unlike Child Trust Funds, there will be no government contributions into each child's savings pot.
The government hopes the new system will be in place in a year's time, the Commons has been told.
The new accounts will be similar to the adult version of the Individual Savings Account (Isa) in that there will be a cap on annual contributions, and investments can be made by cash or stocks and shares.
They will be run by private providers and the government will not put in any public funds.
In May, the coalition announced that it was phasing out its contributions to Child Trust Funds, which were set up by the Labour government to encourage parents to save for their children. Labour's idea was for children to have some savings at the age of 18, to assist with costs such as university funding.
Before May, parents of newborns received a minimum £250 voucher to invest for their children, who had access to the money from the age of 18. A further payment was made when the child reached the age of seven.
But these payments were reduced sharply in August, and the payments will end entirely from January, in order to save the government £320m this year, and £500m in future years.
When it announced the end of contributions, the government suggested that there might still be a programme to encourage a nest-egg for children, who are likely to see rising costs for higher education and housing.
"I am committed to ensuring that all parents can save for their children's future in a simple and straightforward account," said financial secretary to the Treasury Mark Hoban, announcing the new Junior Isa plan.
"The introduction of this new account means that we can still offer people a clear way of saving for their children, while saving the half billion pounds a year that we currently spend on Child Trust Funds."
Related Internet Links
The BBC is not responsible for the content of external sites.