EMI lawsuit banker 'can't remember' Terra Firma calls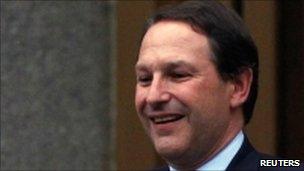 A Citigroup banker has said that he cannot remember key phone calls with Terra Firma boss Guy Hands, in a court case over the sale of music label EMI.
"I don't remember any of the calls specifically," he said on his first full day of testimony in New York.
He is accused of misleading the private equity firm into believing that there was a rival bid for EMI, causing Mr Hands to up his bid to £4bn ($6.3bn).
"I would love to be able to remember it but I don't," he told Mr Hands' lawyer.
Mr Hands claims the banker misled him in three separate calls over the weekend of 18-20 May 2007 about a non-existent bid from rival Cerberus Capital.
The banker also denied remembering telling Mr Hands "not to play games" with the price he was offering EMI shareholders.
When presented by Mr Hands' lawyer with an e-mail that the banker had sent to an EMI executive saying he had told the Terra Firma boss exactly this, Mr Wormsley conceded that it must be true, but continued to maintain that he had no independent recollection of the event.
However, the Citigroup banker claimed he did remember getting "furious" with Mr Hands.
Mr Wormsley alleged that Mr Hands had lied to EMI, by claiming that Mr Wormsley had advised him that EMI would accept a lower bid.
He claimed this incident explained why he would have told Mr Hands not to play games, and that Mr Hands had subsequently called, leaving a message on his answerphone in which he "apologised for lying".
When asked to produce the answerphone message, the banker said he had intended to keep it, but it was erased.
Mr Hands says EMI is worth only three-quarters of the price he paid. If he loses the case, he may be forced to hand ownership over to Citigroup, who provided £2.6bn in loans for the deal.
Closing arguments in the case are expected by next week.
Related Internet Links
The BBC is not responsible for the content of external sites.