Dubai World debt restructuring agreed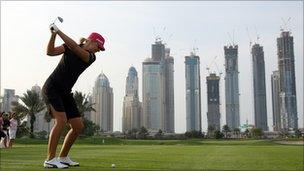 State-owned Dubai World has signed up the last remaining creditor to a $23bn (£15bn) debt restructuring.
The last investor - US distressed debt fund Aurelius Capital Management - sold its position to Deutsche Bank, one of the company's main creditors, according to a report in the Financial Times.
The holding company said in September that 99% of its creditors had already agreed to the new repayment terms.
It means Dubai World can now avoid a lengthy tribunal to complete the deal.
Dubai World manages investments for the Emirate of Dubai, including the Dubai ports, foreign investments, and major real estate development such as the famous palm islands.
Aurelius had bought the debt in the secondary market after the company defaulted on its debts last year, but missed the 9 September deadline to vote for the restructuring.
The terms of the restructuring involve converting $8.9bn of government debt into equity, and would leave Dubai World with $14.4bn of remaining debts.
The news means that a special tribunal, which had been set up to reach a settlement with any creditors that held out from the deal, will no longer be needed.
Meanwhile, there was good news for Dubai on the economic front.
A government spokesman said that he expected a growth rate this year of 2.3%, thanks in part to a 7% rise in population during the first nine months of the year as immigration picked up again.
Meanwhile, Dubai Ports World (a subsidiary of Dubai World) reported that its global container levels had returned to the pre-crisis peak levels of 2008.
Related Internet Links
The BBC is not responsible for the content of external sites.