Deutsche Bank reports loss of 1.2bn euros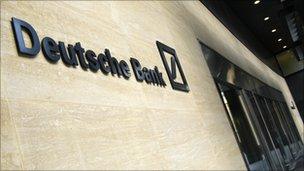 Germany's largest bank, Deutsche Bank, has reported a third-quarter loss linked to its planned purchase of Deutsche Postbank.
It reported a pre-tax loss of 1.2bn euros ($1.66bn; £1.05bn) in the quarter, hit by a 2.3bn-euro charge connected to the Postbank deal.
Excluding the Postbank costs, net profit for the quarter was 1.1bn euros.
Deutsche Bank owns a 30% stake in Postbank and wants to take full control by buying the remaining shares.
Postbank's shareholders have until 4 November to sell their stakes at 25 euros a share.
Deutsche Bank chairman Josef Ackerman said: "The third quarter results again prove the robustness of our recalibrated business model despite the difficult ongoing macro-economic and market conditions."
Deutsche is buying Postbank to build up its consumer-banking and asset-management operations.
This is in contrast to its traditional investment bank operations, which are more at risk of economic and market swings.
Related Internet Links
The BBC is not responsible for the content of external sites.