South Korea growth slows sharply on weak exports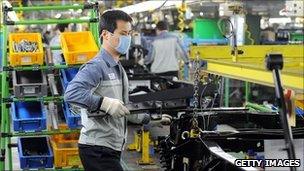 South Korea's economy slowed down sharply in the third quarter thanks to weaker exports, its central bank says.
The country's output in the three months to September was 0.7% higher than the previous quarter - half the 1.4% growth rate of the second quarter.
Exports rose only 1.9%, down from a 7% rate in the spring, thanks to a strengthening of the won and weak demand in the US and Europe.
Domestic demand picked up some of the slack, with private spending up 1.3%.
"The Korean economy is slowing on a slackening global economy, but I don't think the slowdown in Korea is so serious," said Im No-Jung, economist at Solomon Investment and Securities.
Kim Myung-kee, of the central bank's statistical office, said: "Our economy has been sustaining domestic demand-led growth, driven by durable goods."
He added that he did not expect exports to be hurt by the recent strength of the currency.
But some analysts say that a recovery in European and US export demand will be a key variable for South Korean growth next year.
The figures were in line with market expectations, and analysts continue to predict that the central bank will raise interest rates by a quarter percentage point next month.
Inflation is expected by the central bank to accelerate to 3.4% this year.
It was South Korea's seventh consecutive quarter of positive growth since the global recession, but its second quarter in a row of slowing growth.
On an annualised basis, growth at Asia's fourth largest economy remained strong in the third quarter, up 4.5% on a year earlier.
The IMF expects South Korea's economy to grow by 6.1% over 2010 as a whole.
Related Internet Links
The BBC is not responsible for the content of external sites.