Greek economy 'to shrink by up to 3%'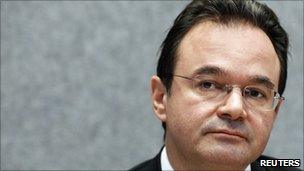 Greece's finance minister has said the country's economy will shrink by up to 3% in 2011, worse than previously estimated.
"Growth will contract by 4% this year, and next year by between 2.5% and 3%," said George Papaconstantinou.
The government's draft 2011 budget had forecast only a 2.6% contraction.
He also said the country was not seeking to extend the schedule for repaying its 110bn euro (£96bn, $152bn) bail-out loan from the EU and IMF.
Speaking to the Associated Press news agency, the minister played down the issue of a payment delay - which he said was not up to the Greek government - but did not definitively rule it out.
"What is up to us is to do the best that we can to reduce the deficit and do the structural reforms," he said, adding that the government was not "at the moment thinking or proposing something else".
Greek government bonds fell slightly in morning trading. The difference in yield between 10-year Greek bonds and equivalent German bonds - a measure of their relative riskiness - increased to 7.5%, but remain well below their peak during the summer of nearly 10%.