Portugal parties fail to agree austerity budget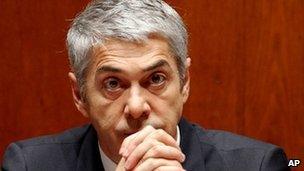 The minority government of Portugal has failed to gain opposition support for its proposed austerity budget.
It is unclear whether the right-wing opposition will actually block the budget or merely abstain from voting.
A failure to pass the budget could plunge the country back into the debt crisis it had seemingly escaped since the summer.
Prime Minister Jose Socrates threatened to quit if the budget fails, while the finance minister ruled out more talks.
The opposition Social Democrats oppose tax rises planned by the governing Socialists, preferring spending cuts.
"The negotiations ended and there is no agreement," said an opposition spokesman.
Finance minister Fernando Teixeira dos Santos said a failure to pass the budget could lead to a "very worrying" scenario. "It will push the country into a very deep financial crisis," he said.
A vote on the budget is due in parliament on 3 November.
The government successfully issued 1.23bn euros (£1.1bn, $1.7bn) of bonds earlier on Wednesday, before the failure of the budget talks became apparent.
The total amount of bonds issued was at the top of the indicated range, as was the pricing of the debt.
However, following the breakdown of negotiations, the market value of Portuguese government bonds dropped.
The difference in yield between Portugal's 10-year bond and its German counterpart - a measure of how markets view their relative riskiness - increased to 3.38% per annum from 3.15% before the news broke.
This is still well below the all-time peak of 4.65% recorded at the height of the eurozone debt crisis in September, suggesting that markets are still confident the budget will ultimately pass.