German unemployment falls below 3 million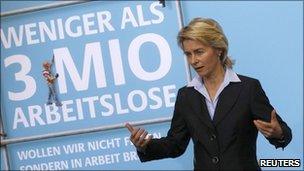 Unemployment in Germany has fallen below three million, the German labour minister has said.
Ursula von der Leyen said the jobless total fell to 2.945 million in October from 3.031 million in September.
That marks the lowest level since October 1992, according to official Labour Office statistics.
A government scheme that encouraged firms to shift employees to part-time work rather than lay them off has helped keep unemployment down.
Related Internet Links
The BBC is not responsible for the content of external sites.