Japanese interest rates kept near zero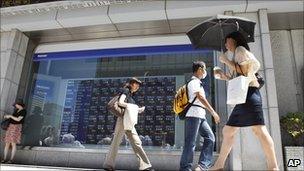 Japan's central bank has kept its key interest rate between zero and 0.1%.
The Bank of Japan's (BoJ) decision, made just weeks after the country unexpectedly cut rates to that level, was widely expected.
However, the bank has brought forward its next scheduled meeting by some 10 days to 4-5 November.
The US Federal Reserve's next meeting is on 2-3 November, and the rescheduling leaves the BoJ free to respond to any policy moves announced.
The US central bank is widely expected to announce further easing measures to boost the economy.
The loose economic policy in the US has left the dollar at a 15-year low against the yen, something that makes US exports cheaper.
Japan does not want its currency to be too strong as this will damage its own exporters.
The BoJ is also fighting to stop deflation, which damages the economy. Falling prices mean consumers tend to defer buying goods as they know that they will be able to buy items more cheaply in the future.
Earlier this month, the BoJ announced a 5 trillion yen asset purchase programme to boost demand and tackle deflation.
Related Internet Links
The BBC is not responsible for the content of external sites.