Exxon Mobil profits from higher oil prices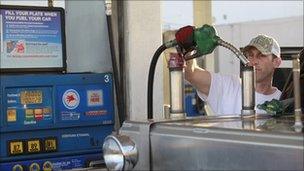 Exxon Mobil has seen its latest quarterly profits jump 55% after it benefited from higher oil prices and increased production.
The world's largest oil company made a net profit of $7.35bn (£4.6bn) in the three months to 30 September, up from $4.73bn for the same period in 2009.
Its revenues totalled $95.3bn, up 16% from a year before.
Exxon's results come on the same day that Anglo-Dutch oil group Shell reported profits of $3.5bn, up 17%.
The latest profits from Exxon beat market expectations.
Exxon chairman Rex Tillerson said the firm's oil production levels were 20% higher than a year ago.
He added that the strong results had come despite "continuing economic uncertainty".
Related Internet Links
The BBC is not responsible for the content of external sites.