Pension scheme membership falls, ONS reveals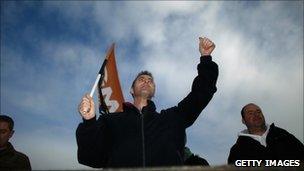 The number of people paying into company pension schemes fell last year to 8.7 million, official figures show.
The Office for National Statistics (ONS), in its annual survey of occupational schemes, said that was a drop from nine million in 2008.
The active membership of public sector schemes is stable at 5.4 million.
But the number of employees contributing to private sector schemes fell by 300,000, to 3.3 million.
Taking into account pensioners and deferred pensioners - people who have left employment but not yet drawn their pensions - 27.7 million people had a direct stake in an employer's pension scheme last year, the same as in 2008.
The landscape of the UK's pension system is going to change considerably in the next few years as a result of recent proposals.
On Wednesday, the government confirmed that all employers, no matter how small, will have to offer a company pension scheme to their staff, with employer contributions.
If they do not, then the employees will have to be enrolled in the forthcoming new top-up pension scheme called the National Employment Savings Trust (Nest).
The state pension age will rise to 66, for both men and women, by 2020, six years earlier than first envisaged.
The inflation-linked uprating of pensions in the public sector will now be linked to the consumer prices index (CPI) rather than the faster rising retail prices index (RPI).
And Lord Hutton's continuing review of the public service schemes has already recommended that their members pay higher contributions to compensate for living longer.
He may recommend in due course that the schemes be changed from their normal final-salary basis to ones where the pension is linked to an employee's so-called "career average" salary.
The ONS survey reveals that while defined benefit (DB) schemes are usually referred to as "final salary", in fact, in the private sector, 23% of active members of DB schemes are now in the career average versions instead.
Meanwhile, membership of all types of private sector DB schemes is still contracting.
In 2009, their active members fell by 200,000 to 2.4 million, while the membership of defined contribution (DC) schemes stayed roughly the same at one million.
As private sector employers continue to shut their DB schemes to cut costs, the membership of open ones continues to shrink.
Only 44% of active members of DB schemes were in ones which were still open to new joiners.
"Five years ago the number of active members of open DB schemes in the private sector was around double that of open DC schemes," said Hazel Mitchell, editor of the ONS report.
"Since then, active membership of open DB schemes has fallen to similar levels as for DC schemes."
The ONS survey highlights one of the key reasons why DC schemes are a much poorer deal for staff than the DB schemes they often replace.
Contributions by both employers and employees are usually much lower.
This makes it inevitable that the eventual pension they can buy will be inferior to anything that a company's DB scheme might offer.
In the private sector, where most DC schemes are concentrated, open ones had total contributions worth only 9.3% of pay last year.
By contrast, open DB schemes, with their much more valuable guaranteed benefits, attracted total contributions more than twice as large, at 20.3% of salaries.
Within those figures, employers paid in 14.9% of salaries to open DB schemes, but just 6.4% to their open DC schemes.
Staff also paid in less to open DC schemes - just 3% of salaries, compared with the 5.4% they paid to open DB schemes.
Related Internet Links
The BBC is not responsible for the content of external sites.