Viral ticketing: Catching a bigger audience on Facebook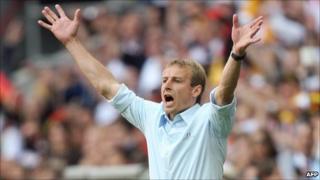 The opening match of the 2006 football World Cup is remembered by most Germans for the national side's 4-2 victory over Costa Rica. It was the highest-scoring opener in World Cup history.
Jurgen Klinsmann's innovative, holistic coaching is credited with taking the team to the semi-finals that year.
But for five friends from Munich, it was the catalyst for innovation on the business playing field.
They had organised a party in their back garden for several hundred people to watch the game. The understanding was that those attending would pitch in 20-23 euros ($28-32; £17-20) to cover the cost of beef and beer.
In the end the hosts didn't have a chance to collect the money, leaving them seriously out of pocket.
They realised that they were staring a business opportunity in the face.
Going viral
Felix Haas was one of those friends. He is now chief executive of Amiando, Europe's leading online service for on demand event organisation and ticketing.
After the party, Mr Haas explains, they sat down in his living room and talked about it. "We decided 'hey, there's no real platform on the internet which can be used for everybody to sell tickets for an event'.
"We sat down for a few weeks and months and developed the first version of amiando, which was initially for private parties, and essentially involved e-vites."
When the platform launched they were approached by several professional event organisers, who liked the proposition, but suggested they should include more complex functionality. The payment engine and ticketing system followed quickly.
Amiando's aim is to harness the cost benefits and reach of the internet, as well as social media networks such as Facebook and Twitter, to offer event organisers on demand invitation management, promotion and attendee registration, as well as integrated billing.
Events can be anything from a birthday party to a concert in a venue holding 20,000. If your event is free there is no charge, a recent development that brings them into line with their biggest competitor, US-based Everbrite. Ticket sales attract a charge of $0.99 (£0.79) per attendee plus 5.9% of the attendance fee.
The company was quick to latch onto the opportunities offered by the new social media platforms, and this led to the release of ViralTickets in 2008.
Mr Haas estimates that around 40% of their customers activate viral ticketing, often in the last three to four weeks before an event when they can gauge attendance rates.
It works like this: if you buy a ticket through Amiando you are then able to share that event with friends and colleagues either by email or through sites like Facebook, Twitter and LinkedIn. When that person also buys a ticket, they get a discount, and you get a refund on your original ticket purchase.
For the event organiser the benefits include reduced cost and a lower investment in traditional marketing and advertising.
According to Mr Haas, it can increase uptake for an event by between 15-20%.
"It's a double-sided incentive system, like a snowball system.
"The event organiser can specify what percentage or absolute value they are willing to give you as a refund for referring other people, and what percentage or value they are willing to give you as a discount."
Word of mouth
Viral marketing isn't new - think word of mouth recommendation. The birth of the internet and subsequent development of social platforms however has led to exponential growth. The big debate is whether investors see a large enough return on their investment.
Viral ticketing is unusual because it appears to have immediate and tangible benefits in the form of sales and income. This is something other companies have been quick to pick up on.
Connecticut company Etouches provides software as a service (SaaS) event management tools targeted at corporate clients. They launched a viral ticketing option in 2009. It works in a similar manner to the Amiando model, although without the dual discount model.
TicketBiscuit provides event management for entertainment venues. Viral functionality is provided by its Promotozoa button, allowing ticket-buyers to share events they're attending with one click through social networks and email.
Another company that has taken a slightly different approach to viral ticketing is Fatsoma. The UK company launched in 2006 in Manchester, as a platform designed to help independent music promoters take advantage of the opportunities offered by social media.
Artists and promoters can go online and create an event on the Fatsoma platform, and start selling tickets. They then recruit 'reps' who push events to their extended network through social media platforms. They can either use a dedicated page or a tab on Facebook. Links to events contain a marker for the rep, who typically pockets between 10-15% of the ticket price.
Their core demographic is the 16-24 age group, especially students. Sales director Ollie Taylor says that it can provide a welcome extra income.
"Students are the ones that need that extra bit of cash, and they get it instantly, they get the social media side of it instantly. We have 10,000 reps in the system, with 130 new reps a day signing up."
Fatsoma charges a flat booking fee of 10%, with no additional fees. They have also introduced paperless options such as mobile ticketing. Over the last 12 months the company estimates they have seen growth of 300%.
Cutting out the middleman
So where does this leave traditional giants such as Ticketmaster, whose business model relies on the fees it charges for booking, postage, and ticketing?
Neil Saunders, senior analyst with Verdict Research, thinks they could be in trouble.
"It's a big threat because when you think about it, companies like Ticketmaster don't really add a significant amount of value.
"Therefore they're imminently replaceable by another channel that can do the job of distribution just as well if not better."
He sees the service offered by companies like Amiando as a much more effective use of people's time, and client resources, as the consumer is doing most of the legwork.
"They very much fit in with the whole way in which the market in retail and marketing is going, in terms off putting power into the hands of the consumer, facilitated by real-time online social media.
"I think there will still be a place for players like Ticketmaster, but I think they'll have to provide a more compelling justification for their existence and it's inevitable that they'll lose some market share."
Amiando's Felix Haas certainly agrees.
"Ticketmaster takes incredible fees, all kinds of fees. You can cut out the middleman - the combination of viral tickets and social networks gives the power back to the event organiser. You can initiate the ticket sales and let the participants help to sell more."
The company claims that more than 100,000 events use Amiando. The platform supports 15 currencies and there are now offices around the world. Clients include BMW, TechCrunch, News Corporation and Nokia. Mr Haas says the company hit profitability this year and is focused on further growth.
"The market for our type of business is just taking off in Europe, as it's always a few years behind the US.
"All the social networking platforms have gone mainstream, and events organisers are getting used to using the software. We're just focusing on capturing as much [business] as we can"