Potash profits second highest ever for third quarter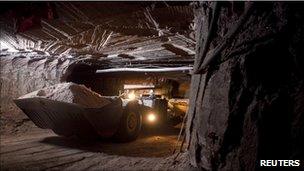 The world's biggest fertiliser producer, Potash Corporation. has reported third-quarter net income up 61% at $402.7m (£254m).
The Canadian company said the result was its second-highest on record for the period.
Potash, an unwilling recipient of a takeover offer from mining giant BHP Billiton, said rapidly rising prices for crop commodities had led demand.
The results statement made no direct mention of the BHP offer.
The $39bn bid for Potash has become a hot political topic.
Last week, Saskatchewan province, home to Potash Corporation, asked the Canadian government to block the hostile bid.
The province's premier said the takeover was not in the interests of Saskatchewan or of Canada.
Potash itself has asked a US court to block the deal.
A from the company said its markets were continuing to expand.
It said since the end of its third quarter, the price of potash, the common name for various potassium compounds and potassium-bearing materials used in food fertiliser, had risen further and that worldwide demand for food was unlikely to slow any time soon.
The company's results announcement said: "In our view, rising agricultural markets are not simply the result of short-term production challenges.
"The pressures of feeding a growing population, coupled with expanding economies and a desire for protein-rich diets, have been increasing for many decades and cannot be alleviated overnight."
Related Internet Links
The BBC is not responsible for the content of external sites.