Microsoft profits from record first-quarter sales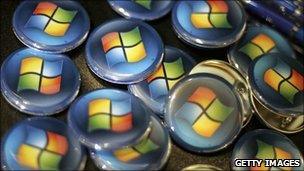 Microsoft has announced a 51% rise in first-quarter profit, thanks to higher sales of its flagship Windows and Office software.
Net profit for the three months to September came in at $5.4bn (£3.4bn).
Revenues increased by 25% to $16.2bn - a company record for the first quarter.
But Microsoft said that in the same quarter last year it had deferred some revenue from Windows sales. Had it not done so, its net profit would have been only 16% higher in comparison.
"This was an exceptional quarter, combining solid enterprise growth and continued strong consumer demand for Office 2010, Windows 7, and Xbox 360 consoles and games," said Peter Klein, chief financial officer at Microsoft.
Windows sales rose 66% on a year earlier to $4.8bn, while Office and other business software brought in $5.1bn, a 14% increase on last year.
'Firing on all cylinders'
Microsoft shares rose 2.8% in after-hours trading.
Its stock has fallen 14% so far this year as investors worry about its ability to adapt to new ways of computing.
Last week, its chief software architect Ray Ozzie unexpectedly resigned, and warned that the company must think "beyond the PC".
But its latest results were better than analysts had expected.
"Microsoft had a very good quarter," said Toan Tran, an analyst at Morningstar.
"Windows is still doing well, Office is doing well, and servers and tools are doing well. The big three businesses are firing on all cylinders as the PC upgrade cycle continues."
Related Internet Links
The BBC is not responsible for the content of external sites.